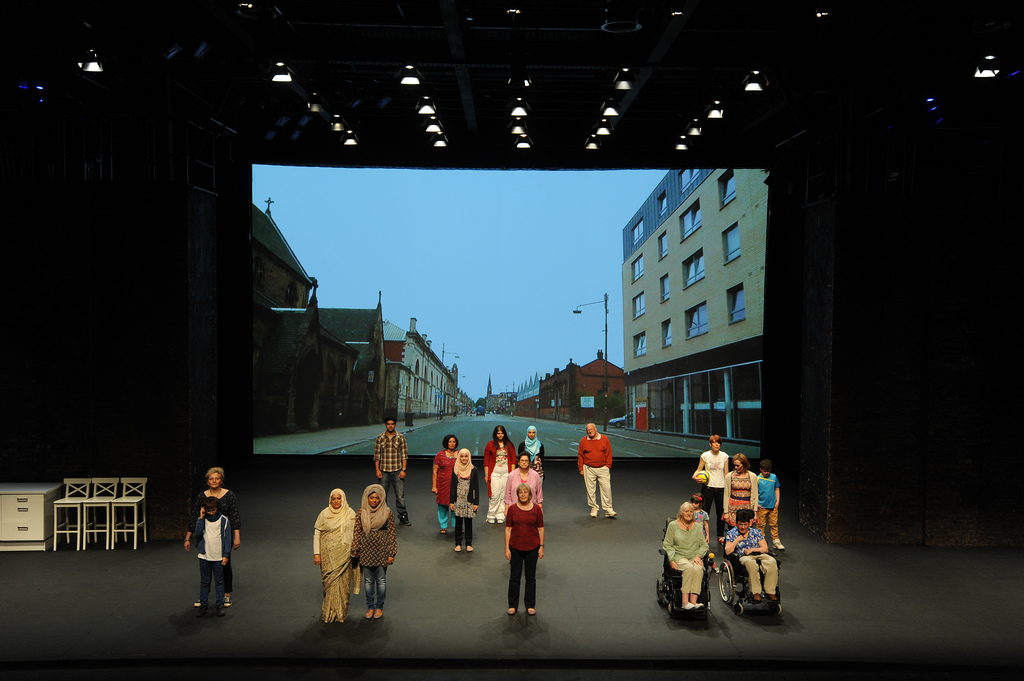 [pexcirclecta pex_attr_title="For full information about the ALBERT DRIVE Project and for information about our collaboration with artists including Basharat Khan, Janice Parker, Nic Green, Edo Architecture, Arpita Shah and Shauna McMullan as well as the community of Pollokshields." pex_attr_button_text="Visit the Project Website" pex_attr_button_link="http://albertdrive.com"][/pexcirclecta]
For the past year we have been working on our largest project to date. A co-production with the Tramway called ALBERT DRIVE. This is a large-scale arts project involving artists, volunteers, local businesses, residents, families, individuals and communities in a creative exploration into the idea of neighbour from the perspective of one street in Pollokshields, Glasgow.
The project very first began in October 2011 with a three-month residency at Tramway and an attempt to research and develop the idea on Albert Drive. At this time Glas(s) Performance worked with second year students studying the Contemporary Performance Practice programme at the Royal Conservatoire of Scotland in order to create the very first version of the work. This was a show in which an audience walked along Albert Drive visiting performances by members of the community along the way. This first version of the project was a huge success and attracted a really positive response.
It was also clear to us that there were still ideas to explore, a greater number of people left to meet and more to discover about our neighbours on Albert Drive. In October 2012 we launched the next phase of the ALBERT DRIVE Project; the result of which opens on Saturday 6th July 2013 at Tramway.
Over the past ten-months we have met well over 1,000 people that live and work in Pollokshields. We have visited community centres, halls, schools, homes, gardens, churches, mosques, gurdwaras and living rooms. We shared tea, cake, mango lassi and gulab jamen. We sang songs, told stories, played bingo, football and backgammon. We looked at old photographs and learned new recipes. There have been conversations about big things and small things – things we have agreed on and moments of difference. It has all been about meeting our neighbours and thinking more about what it means for us all to live alongside each other in Scotland today.
We are delighted now to be able to present ALBERT DRIVE at Tramway and welcome to explore the many different parts of the project – an Exhibition featuring work by commissioned artists in collaboration with residents, a Shared Meal made by the local businesses and communities and a Performance created and performed by families and individuals living in the area.
Photo Credit: Alan Dimmick