MANIFESTO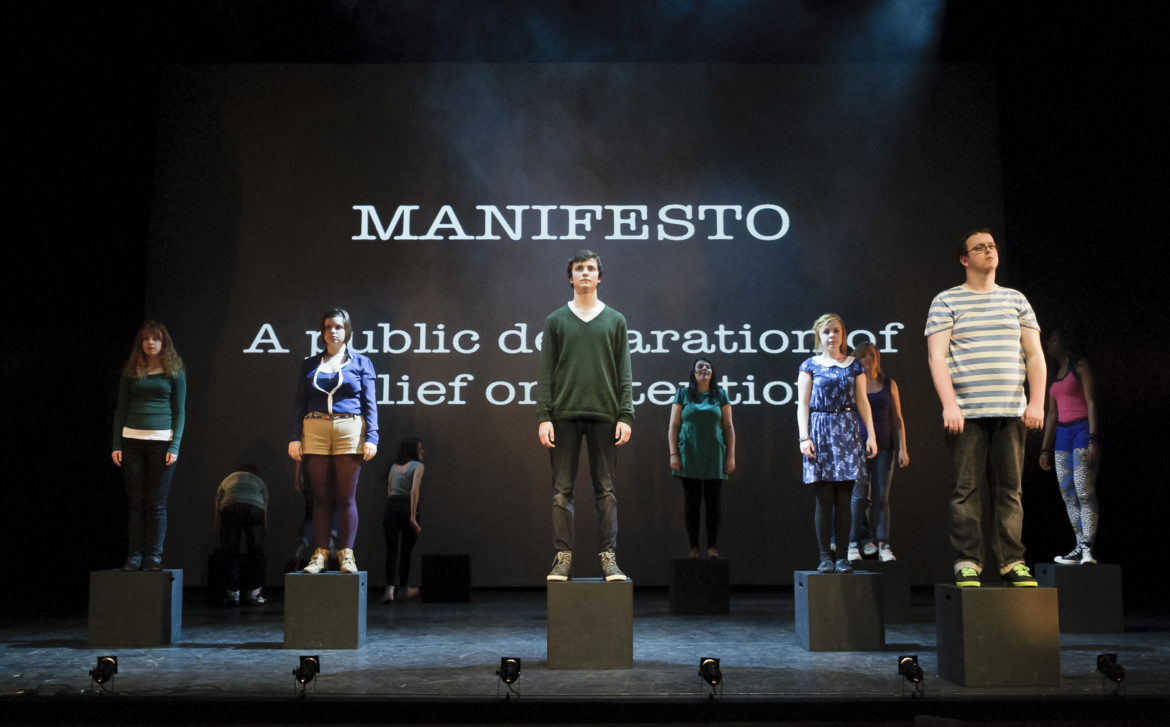 MANIFESTO was a commission from the Core at Corby to work with their young actors aged between 15 and 23.
We first met the group in February 2012 when we introduced them to the idea that we were going to make a show from scratch, that we wanted them to come up with the starting for this show and that we did not want them to play a character but to simply be themselves on stage. At this point we had no idea exactly what would happen or where the process would lead us…
Together we came up with the title MANIFESTO and the possibility of looking at the things they wanted to express about the world as young people in 2012, of using theatre as a way of direct communication. This felt exciting for all of us.
'Manifesto' is not one story but many. It is the bringing together of multiple ideas, opinions and influences in an attempt to explore something of what it means to be a young person today. It is about the importance of the individual and the power of the collective. It is about trying to get our voices heard even when we don't know exactly what we want to say.
'Manifesto' was platformed at The Core at Corby Cube on Friday 13th and Saturday 14th April 2012
'Manifesto' was devised and performed by: Ester Abe, Emmeline Wallington, Tom Wallington, Jaz Cox, Katie Edgar, Laura Gammons, Oliver Graham, Christina Hughes, Niamh Kennedy, Ryan Leder, Coral Pashler, Victoria Spender
Directed by: Jess Thorpe and Tashi Gore of Glas(s) Performance
Lighting by: Adam Broom
Sound by: Jack Favell
Supported by: Rachel Young, Debbie Cassie, Kyle Futen and Amanda Law
Produced by: Lisa Byrne
Manifesto was a commission from the The Core at Corby Cube www.thecorecorby.com